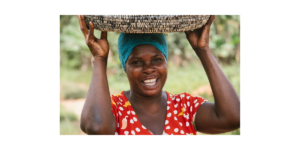 All Across Africa's mission is to create jobs and markets to alleviate poverty in Africa.
All Across Africa (AAA) is a social enterprise accelerating artisan integration into the global economy by facilitating access to foreign markets.
AAA's unique supply chain model includes training and employing over 3,000 artisans in five countries in Africa, primarily women. A certified B-Corporation headquartered in San Diego, they are investing in expansion to support growing sales demand. Mission Driven Finance led a $600,000 financing round alongside other impact investors with a $350,000 loan. With this investment, AAA will be able to scale their domestic sales team to build out channels to sell their ethically made products.
Learn more about their incredible ripple effects on communities in Africa through the Santa Clara University Miller Center for Social Entrepreneurship impact report.
Buy home goods and jewelry directly from AAA's retail channel kazigoods.com