The Mission Driven Finance team is celebrating a huge milestone: We've disbursed
$50 million* in assets into community (AIC)
as of July 31, 2022!
What started as a simple but bold idea from our co-founders David Lynn and Lauren Grattan—to use finance as a tool for change and flow capital where it normally doesn't but should—has blossomed into a team of more than 25 and funded over 80 small businesses, nonprofits, and social enterprises in San Diego and across the United States.
Chief Investment Officer Louie Nguyen puts it this way, "The human faces of $50 million into the community include more foster children being cared for, more entrepreneurs of color getting a chance at the American dream, more women funded to drive social change, more employees gaining ownership of the businesses they helped build…which translates into more jobs created, more fresh produce brought into a food desert, more opportunity for so many."
Oralia Alvarez, director of business development, says, "While my unicorn-chasing investor friends go berserk for their hip tech portfolio's $50M series D, I'm elated with our team's $50M AIC that has empowered hundreds of communities and transformed thousands of lives."
While investment firms traditionally measure assets under management (AUM), we prioritize AIC because it measures money moving off the sidelines and into the hands of leaders that had a hard time getting capital from traditional sources.
Having $50M in AIC with zero write-offs** also means that our approach of not using personal credit scores or guarantees can actually work. 
Xitlali Villa, community finance fellow, shares, "It means that impact investing is a very necessary and viable investment option. It shows the incredible value of investing in community in ways that are not extractive."
Along with this milestone, we have also surpassed 100 loan transactions!
Here's a snapshot of other milestones throughout the years: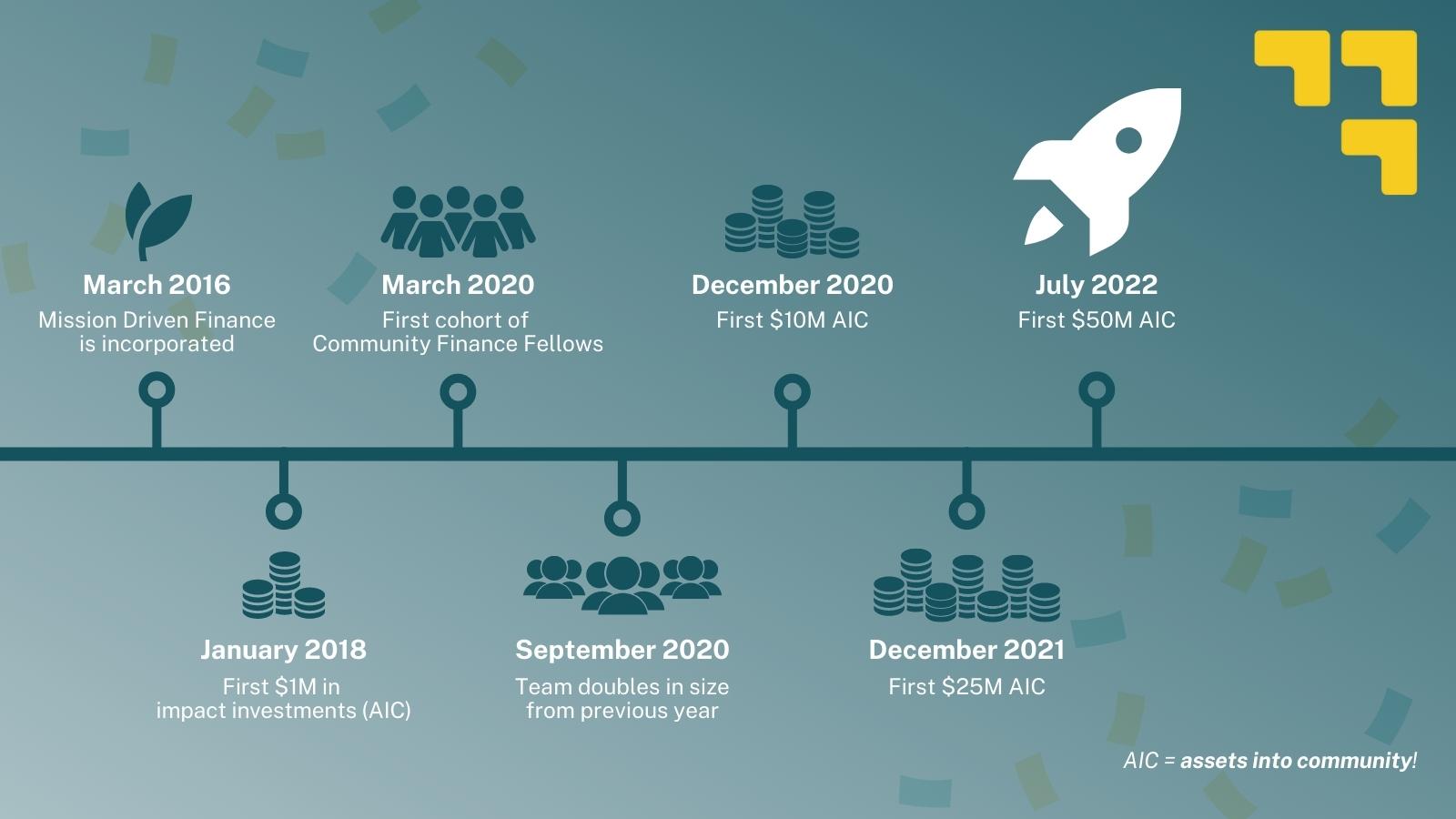 Getting $50M into the community has been a collective effort with our team, portfolio companies, investors, community partners, clients, and champions. That's many of you reading this right now!
Fifty million dollars in AIC means so much to us at Mission Driven Finance—it means new affordable and attainable housing, BIPOC and women founders getting the capital they need to grow, supporting nonprofits to deliver on their mission, and helping client-partners across the country flow capital into their communities. 
We're also not looking to slow down. Our team grew a lot, the CARE Investment Trust has exciting movement in increasing access to quality child care, we're equipping diverse firms with subcontractor financing and supporting sustainable food systems through our regenerative harvest strategy, and dozens of incredible client impact initiatives are coming online.
Thank you for being a part of our journey. We can't wait to celebrate $100M AIC, $200M AIC, and more with you.
To learn more about our investment strategies, feel free to click here or reach out.
Looking to be part of the next milestone of assets into community? Check out our financing options.
* Unaudited as of July 31, 2022
** As of July 31, 2022