There comes a time for many small businesses and nonprofits when you're ready to grow and expand, but find yourself in an awkward, in-between space—you've outgrown microfinance and often SBA loans, but don't quite fit bank financing criteria.
That's where we come in.
While you have great plans, you might need customized transaction structures that other investors and highly-regulated banks can't offer. We use flexible capital from impact-driven investors to support leaders like you with bold visions, innovative enterprises, and great programs for your communities.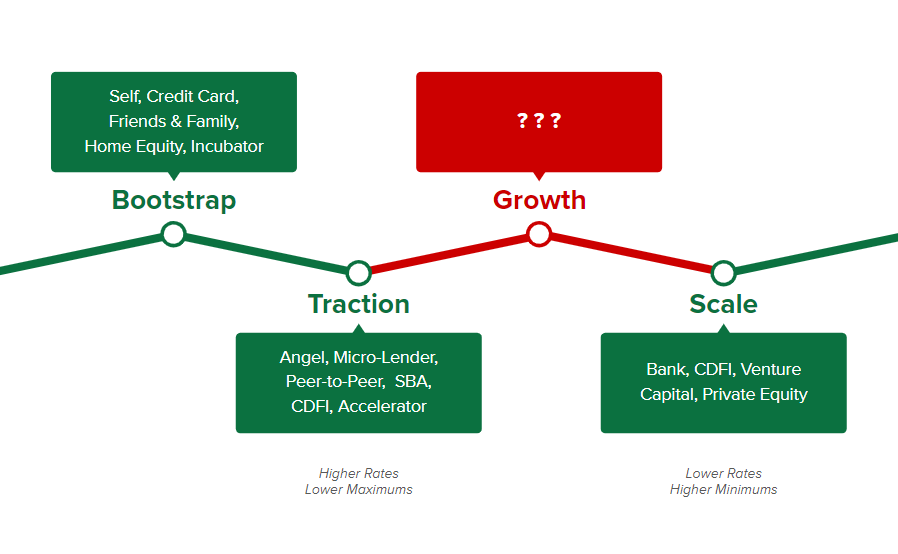 1. What types of loans does Mission Driven Finance offer?
Through our Advance Strategy, we make commercial loans of $100,00 to $500,000 to small businesses and nonprofits in San Diego County that are doing good in their community and plan to do more—if only they had the right capital to grow. We're flexible within that dollar range so that we can design the right investment structure for each borrower's needs. Terms range from nine months to five years, with flexible amortization schedules. Our rates are typically consistent with SBA, currently 8.5%.
Because economies are stronger when everyone has the chance to participate, we also offer culturally sensitive investments structured with Islamic financing principles.
2. What are our loan criteria?
We have a unique underwriting process to assess impact, management, and finance so we can evaluate risk differently than other folks do. This allows us to offer reasonable loans to those who might otherwise slip through the cracks.
What we look for:
Impact—businesses and nonprofits that are tied into their community and want to do more
Management—leaders that are smart, driven, honest, and coachable
Finance—proven revenue to repay a loan, but not a fit for other investors due to one of the financial challenges below.

What we don't require:
Personal credit scores
Owning a house or using personal assets as security
Simple business structures
We think these are roadblocks preventing good businesses from growing. Where some people see risk, we see opportunity. Our job as responsible stewards of our investors' capital is to customize each transaction to the specific borrower and make the investment as safe as we can.
3. What do we mean by "impact?"
If you're committed to doing good in your community—either by the jobs you provide or the products and services you offer, you can make an impact.
Our Advance Strategy lends to organizations committed to inclusive economic opportunity through at least one of these three key pathways:
Organizations that prepare people for success through access to healthcare, housing, and education
Businesses that provide quality jobs, hire from their communities and support employee development
Systems and infrastructure that allow more people to participate in a positive growing economy
One of our core values is to leave a lasting impact in our community, and partnering with Mission Driven Finance will help us make that a reality. We're looking forward to having them walk alongside us in our process of becoming a more impact-focused company.

Ryan Sisson, CEO & founder of Moniker Group and Advance borrower
Not sure if your business qualifies? Reach out and we'll chat through what you're doing now and what you could be doing to increase your impact.
4. We're not just a lender—we're your partner
We want good businesses and nonprofits to grow. So from the first conversation with our team, during underwriting, and throughout our investment, we're here to help make you stronger. Our team works diligently to understand you and your business at a human level so we can tailor a loan for your unique situation. We also work with you to enhance what you're already doing well in your impact, management, and finances.
We want to help get you connected to the right capital to grow—whether that's with us or with one of our community partners.
"The whole process of working with Mission Driven Finance has been amazing. It's really given us a chance to examine the processes we've put into place and make sure that we look at every component of the business from multiple angles so we can be in the strongest position to serve our students."

Bethany Chaffin, director of Friends of Willow Tree and Advance borrower
5. What other community lending options are out there?
We work closely with many other lenders and investors to help get great organizations connected to the capital best suited to their needs.
For those that qualify, a loan or credit line from your bank is always a great choice for an affordable loan. If your business is just starting to grow, our good friends at Accessity have fantastic products for smaller amounts. CDC Small Business Finance also has a wide array of SBA and other options, including commercial real estate loans. For more nuanced situations, feel free to contact our team to learn what other options might work for you.