Deal Marks Historic Collaboration Between Bridgedeck Partners, Mission Driven Finance, The San Diego Foundation and Alliance Healthcare Foundation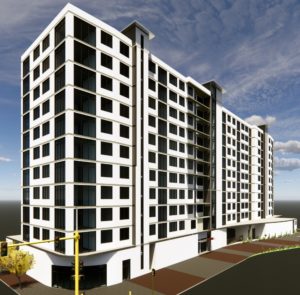 July 7, 2021 [San Diego, CA] — With a new collaborative investment, the area near Normal Heights and City Heights is one step closer to having more affordable housing. A hundred and ninety affordable housing units are planned for the nearly 20,000-square-foot piece of land next to the City Heights Transit Plaza, at the corner of El Cajon Boulevard and 40th Street.
Bridgedeck Partners LLC—consisting of local affordable housing developers Naturally Affordable Housing and The Hampstead Companies—sought $2 million of debt capital for the acquisition of the final parcel of land on the edge of the Normal Heights neighborhood.
Mission Driven Finance, a San Diego-based impact investment firm, worked with Bridgedeck Partners to structure a collaborative $2 million investment. The San Diego Foundation approved a $1 million investment in this project, and Alliance Healthcare Foundation and Mission Driven Finance each invested $500,000.
"To realize just, equitable and resilient communities, we need to increase access and resources for San Diegans facing barriers to realizing full and healthy lives," shared Mark Stuart, President & CEO of The San Diego Foundation. "Soon, 190 families will have stable, affordable housing thanks to community partners coming together to ensure the equitable flow of capital for social good."
"Recent regional housing needs assessments show a current estimated gap of roughly 70,000 units of low-income housing needed to meet demand. We need to be doing everything we can to catalyze more housing solutions. This project is one step in the right direction," said Sarah Lyman, Executive Director, Alliance Healthcare Foundation.
"The San Diego Foundation and Alliance Healthcare Foundation invested with their community values, which not only means more families now have access to affordable homes in San Diego right next to a transit hub, but it also demonstrates a case for using impact investing to address critical community needs, like speeding up the development of affordable housing," said David Lynn, co-founder and CEO at Mission Driven Finance.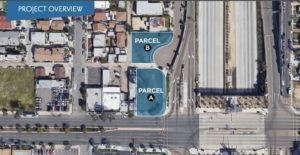 This $65 million development will provide rental housing for very low and low-income individuals and families earning between 50% and 60% of area median income. The access to major thoroughfares and public transportation at the neighboring City Heights Transit Plaza makes this an attractive location for working families to call home.
Bridgedeck Partners credit County of San Diego Board of Supervisors Chair Nathan Fletcher, City of San Diego Council President Pro Tem Stephen Whitburn, and former City of San Diego Councilmembers Chris Ward and Georgette Gómez for their leadership and commitment to housing near transit in making this progress possible.
"Building affordable housing near City Heights will benefit the working families who live there, the surrounding small businesses and our environment," said Chair Nathan Fletcher, San Diego County Board of Supervisors. "This is the type of housing density we need to see more of in San Diego. I fully support this project and stand ready to assist in making it a successful new development in my district."
"San Diego needs to have affordable homes for everyone. This project is a perfect example of what we need—housing that is accessible to transit and financially within reach for low-income and working San Diegans. I look forward to seeing more projects like this come to District 3 and throughout all of San Diego so that we can ensure housing opportunities for all," said City of San Diego Council President Pro Tem Stephen Whitburn.
David Iwashita and John O'Connor of Bridgedeck Partners, both born and raised in San Diego, have families going back generations that owned and ran businesses along the El Cajon Boulevard corridor and are invested in responsible growth and development of the area.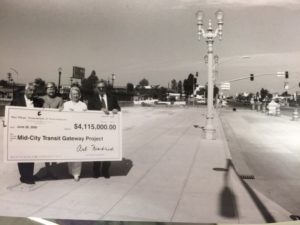 In fact, the name of the partnership refers to the freeway bridge deck that O'Connor's mother Jacqueline "Jackie" O'Connor helped secure grant funding to complete, leading the charge for public improvements to El Cajon Boulevard that resulted in nearly three miles of new landscaped medians and the installation of over 100 street lights.
"I've seen the positive changes taking place in this community since I was young," said O'Connor. "In going into affordable housing development, I wanted to keep the momentum going. It's great seeing those early visions from generations before combining with current community needs coming to fruition. I am honored and excited to be working with city leadership and our partners to achieve this important goal."
Members of Iwashita's own family, who were interned during World War II, said, "It became my personal mission to help build back neighborhoods that were welcoming and were there for my father's business and were taking care of my grandparents."
"This project is a shining example of how great partnerships can yield impactful results that help strengthen and improve communities," said Iwashita. "We are just as excited about our new partnership with The Hampstead Companies as we are about community development. We are truly looking forward to executing this vision."
The Hampstead Companies is a San Diego-based development and investment organization. Greg Gossard and Jeff Jallo specialize in the acquisition and rehabilitation of existing low-income housing projects and community redevelopment efforts. 
"While Hampstead has developed and preserved affordable housing for nearly 25 years in markets across the United States, this particular project struck a chord with us," said Jeff Jallo, principal of The Hampstead Companies. "To be able to leverage our development experience, while expanding our impact on affordable housing in the region we call home, truly makes this a passion project for our entire team." 
"We are grateful to have continued support from the community—including the Normal Heights Planning Committee, the El Cajon Boulevard Business Improvement Association, the City of San Diego, and our partners at The Hampstead Companies, who saw what this project has the potential to provide much needed housing next to a significant transit hub," said O'Connor.
"Using our financial strategy skills to bring this much-needed affordable housing development to life is an incredibly meaningful milestone for Mission Driven Finance, which was built to reconnect capital and community," says Lynn.
# # #
About Mission Driven Finance
Mission Driven Finance is an impact investment firm dedicated to building a financial system that ensures good businesses have access to sufficient, affordable capital. Built from the ground up with a single purpose—to make it easy to invest in your community—all our funds and structured products are designed to close financial gaps that will close opportunity gaps. We work with local and national investors to help them create the impact they want, and work with businesses and community partners to help them get the capital they need. Mission Driven Finance was launched in 2016 in San Diego, CA and is a Certified B Corporation.
About Bridgedeck Partners
Bridgedeck Partners is a meaningful partnership between Naturally Affordable Housing and The Hampstead Companies with the united goal of bringing affordable housing to San Diego's Normal Heights neighborhood. Their combined experiences have highlighted the importance of local partnerships as they have a significant role in strengthening affordable housing developments and enhancing the community. The Bridgedeck Partners are thrilled to work with Mission Driven Finance, The San Diego Foundation, and Alliance Healthcare Foundation to successfully deliver 190 apartment homes to San Diego families.
About The San Diego Foundation
The San Diego Foundation inspires enduring philanthropy and enables community solutions to improve quality of life for all people and all partners in our region. For more than 46 years, The Foundation and its donors have granted more than $1.3 billion to support nonprofit organizations to create just, equitable and resilient communities throughout the San Diego region.
About Alliance Healthcare Foundation
We work to advance health and wellness for the most vulnerable in San Diego and Imperial counties through collaborative funding, convening and advocacy.
We believe all people have a desire, and a basic human right, to be well.
We define wellness as a state of complete physical, mental, spiritual, economic and social well-being and not merely the absence of disease or infirmity. Society, structural systems, community, neighborhood, and family are collectively responsible for creating an environment of health and wellness. Wellness is personal and is not the same for everyone.
Health equity exists only when people can attain their full health potential, regardless of resources, circumstance, skin color or identity. This potential can only be reached when we reduce – and ultimately eliminate –the disparities that adversely impact marginalized and under-resourced communities. Learn more at AllianceHF.org.