We are proud to be a part of Integrated Capital Investing's The Transformative 25 List, funds that are transforming finance for people and the planet.
Compiled by Jennifer Astone, founder of Integrated Capital Investing, the list consists of innovative funds that meet three of the following four criteria:
Employ integrated capital to reach those unable to access finance
Engage with creative finance structures for shared prosperity
Focus on social, relational, and ecological returns
Reshape ownership and governance for shared prosperity
In compiling this list, Jen asks this important question: How can finance address the issues of race, gender, and power?
"Not only does discrimination and bias plague our financial systems, but fund managers also need to address how financial power has been accumulated. And how it has created huge wealth gaps, especially for Black, Indigenous and People of Color (BIPOC)," Jen writes.
"The funds respond to these issues in different ways from commitments to diversity and democratic governance within their organizations to a deliberate focus on and measurement of who they serve. Their business models create incentives and change the way entrepreneurs and people access finance, especially those marginalized by the financial system."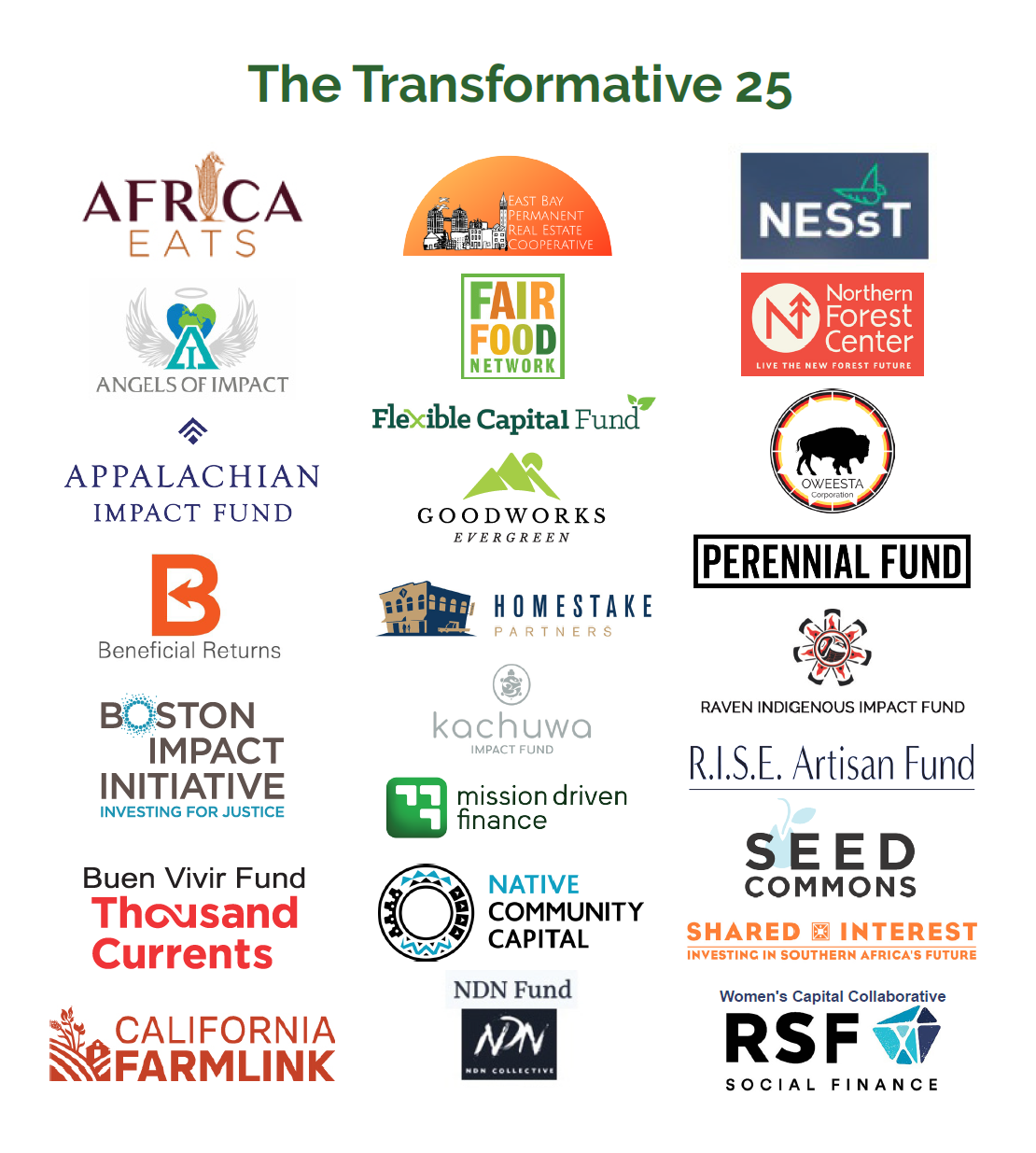 Congratulations to all the funds on this list!
Funds on the list represent 198 combined years of experience in integrated capital, have collectively raised over $234 million from 1,845 investors, and made 2,162 investments to date.
Africa Eats
Angels of Impact
Foundation for Appalachian Kentucky's Appalachian Impact Fund
Beneficial Returns
Boston Impact Initiative's COVID-19 Business Resilience Fund
Thousand Currents' Buen Vivir Fund
California FarmLink
East Bay Permanent Real Estate Cooperative
Fair Food Network's Fair Food Fund
Flexible Capital Fund, L3C
Goodworks Evergreen Fund
Homestake Venture Partners
Kachuwa Impact Fund
Mission Driven Finance (Hey, that's us!)
Native Community Capital
NDN Collective's NDN Fund
NESsT Enterprise Loan Fund
Northern Forest Center's Northern Forest Fund
Oweesta Corporation
Mad Agriculture's Perennial Fund
Sprout Enterprise & Realize Impact's R.I.S.E. Artisan Fund
Raven Indigenous Capital Partners' Raven Indigenous Impact Fund
Seed Commons: A Community Wealth Cooperative
Shared Interest's Investing in Southern Africa's Future
RSF Social Finance's The Women's Capital Collaborative
Learn more about The Transformative 25 List at iciaptos.com/the-transformative-25-part-2-of-2.