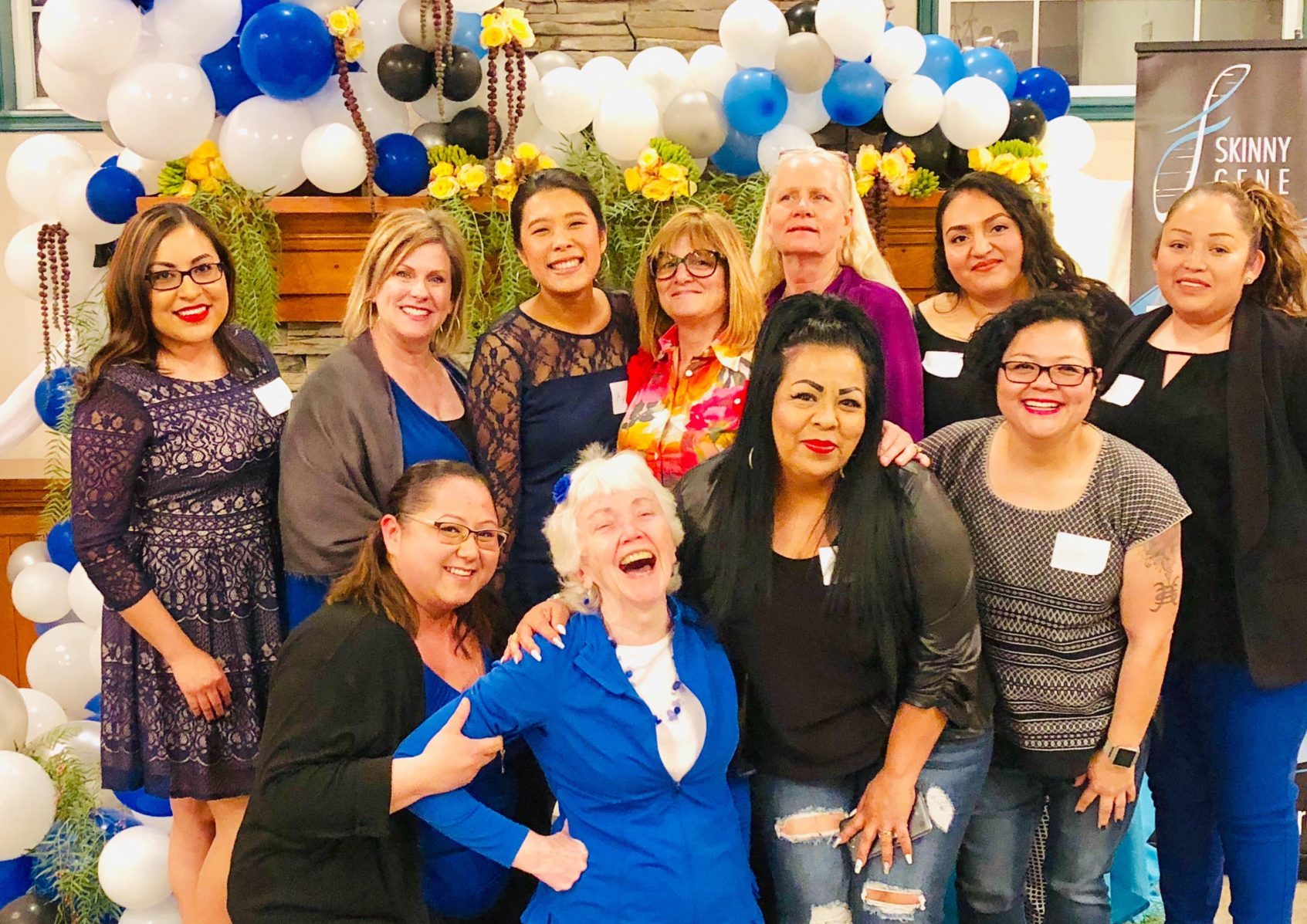 What they do
The Skinny Gene Project is a nonprofit dedicated to preventing type 2 diabetes. They educate people and families that are at risk and empower them with personalized nutrition counseling, accountability, and support to prevent the progression of prediabetes into full-blown type 2 diabetes.
Skinny Gene Project is one of a small handful of providers in the country fully recognized by the Centers for Disease Control and Prevention (CDC) to provide Diabetes Prevention Programs (DPP) and get reimbursed by Medicare, Medi-Cal, and commercial health insurance plans.
Founder and Executive Director Marlayna Bollinger started the work that would become the Skinny Gene Project in 2002 when she tragically lost her aunt to type 2 diabetes.
That same year, the American Diabetes Association recognized conditions that put people at higher risk for developing type 2 diabetes and coined the term "prediabetes."
Most people with prediabetes are unaware that they have this condition, potentially missing the opportunity to change their lifestyles and prevent the development of type 2 diabetes.
Skinny Gene Project connects people with prediabetes to social, environmental and behavioral support services in their community to enable them to thrive, not just survive.
Their programs educate and empower others to prevent type 2 diabetes:
Community screening and events make prevention fun with interactive games and resources to educate high-risk communities about reducing their risk of developing type 2 diabetes
1-on-1 nutrition counseling enables practitioners to understand the personal challenges facing an individual with prediabetes to design the best program for their needs
Onsite group classes create a team spirit for individuals and families to learn together and fight diabetes in their communities
Virtual diabetes prevention program supports those who can't participate onsite, so that prevention is accessible to all
Community cooking classes help participants make healthy changes to cultural cuisines so they can fight diabetes and eat their favorite foods
Articles on healthy living curated by Registered Dieticians break down nutrition, fitness, and other evidence-based tips to make healthier lifestyles achievable
What they stand for
Skinny Gene Project is committed to reducing type 2 diabetes, which disproportionately affects communities of color, particularly Hispanic/Latinx, African American, Asian American, and Native American/Alaskan Natives. In bringing diabetes prevention programs to underserved areas with high-risk populations, Skinny Gene Project helps bridge the health disparities gap and brings high-quality, culturally sensitive, evidence-based programs to those with the greatest need.
Their structured lifestyle interventions can cut the risk of type 2 diabetes in half. Plus, these changes can have many other benefits such as reducing the risk of serious diabetic complications such as stroke, kidney failure, amputations, blindness, and heart disease. The impact of prevention for one individual is up to $130,000 in healthcare savings over their lives which also are much longer than without an intervention–up to 27 years!
Why we invested
The Skinny Gene Project team is deeply passionate about diabetes prevention and has put together incredible, scalable programs that are making a difference, closing health disparities, and reducing healthcare costs. Not only do they run DPP programs, but they also are certified to train others to expand DPP access into more communities.
Skinny Gene Project built these programs before there was a viable market for them because they saw the immense need for diabetes education and intervention. Skinny Gene Project was the first organization in San Diego County to join the national effort to scale DPP in 2014. In 2016, they became the third entity in California to receive full recognition from the CDC which they have maintained since. This CDC designation is only given to organizations whose program outcomes demonstrate the ability to prevent or delay type 2 diabetes by at least 58%.
As health plans increase investment in prevention and seek to contract with nationally-vetted vendors, Skinny Gene Project has a very healthy head start securing these new DPP contracts. Mission Driven Finance invested to help prepare for this increase in contracted support. Our capital will help to ensure that their data systems are secure and HIPAA compliant as well as transition part-time employees to full-time with benefits.
In addition to our capital investment, Mission Driven Finance supported Skinny Gene Project with referrals for financial capacity building to best prepare them for this new period of growth. Marlayna graduated from Mission Edge's City SAIL social enterprise accelerator in Summer 2019. She also worked with a volunteer from San Diego Social Venture Partners to transition Skinny Gene Project's accounting practices.
Impact Segment
Shaping local markets
Skills training and workforce development
Impact Vehicle
Advance Strategy
Date of Investment
October 2019
Impact Geography
San Diego County and Southern California
Leadership
Marlayna Bollinger,
Executive Director
Status
Successfully repaid