Why a loan?
When your business is ready to grow and expand, but you find yourself in an awkward, in-between space—you've outgrown microfinance and often SBA loans, but don't quite fit bank loan criteria.
That's where we come in.
You might need something that other investors and highly regulated traditional banks can't offer. At Mission Driven Finance, we use flexible capital to support community leaders like you—changemakers with bold visions and innovative enterprises.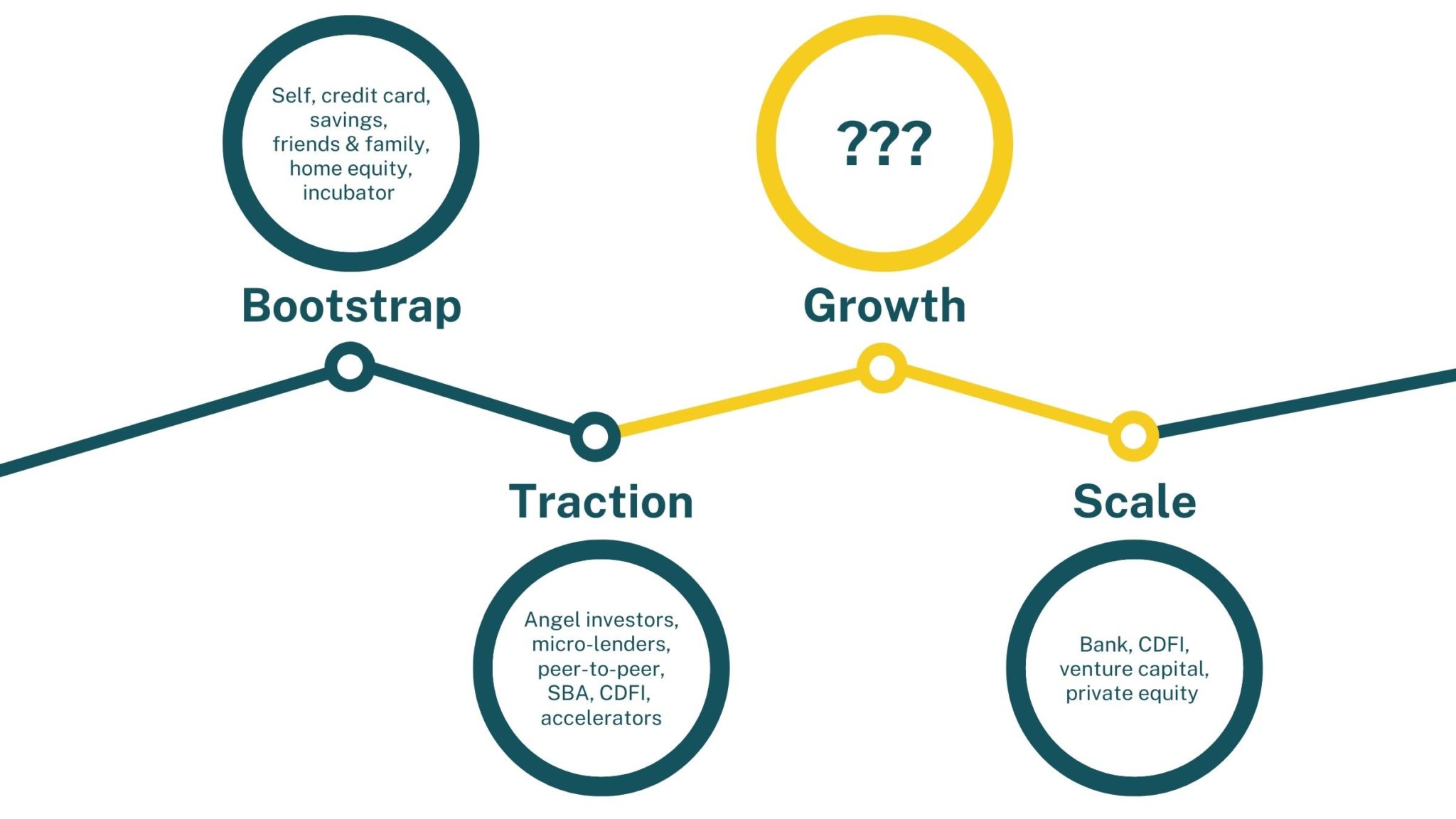 1. What types of loans can I get with Mission Driven Finance?
Here is a quick overview of our
loan options
*:
Southern California and across the U.S.
Small businesses and nonprofits doing good in your communities
Amounts in the $100,000–$500,000 range
Loans from 6 months to 5 years
Option for revenue-based financing for flexible payment schedules
Islamic financing available
No credit scores, no personal guarantees
See each of these options for more information:
2. Do I qualify?
What we look for:
Impact—businesses and nonprofits that are tied into their community and want to do more
Management—leaders that are smart, driven, honest, and coachable
Finance—proven revenue to repay a loan, but not a fit for other investors due to one of the financial challenges below.
The types of capital gaps we fill: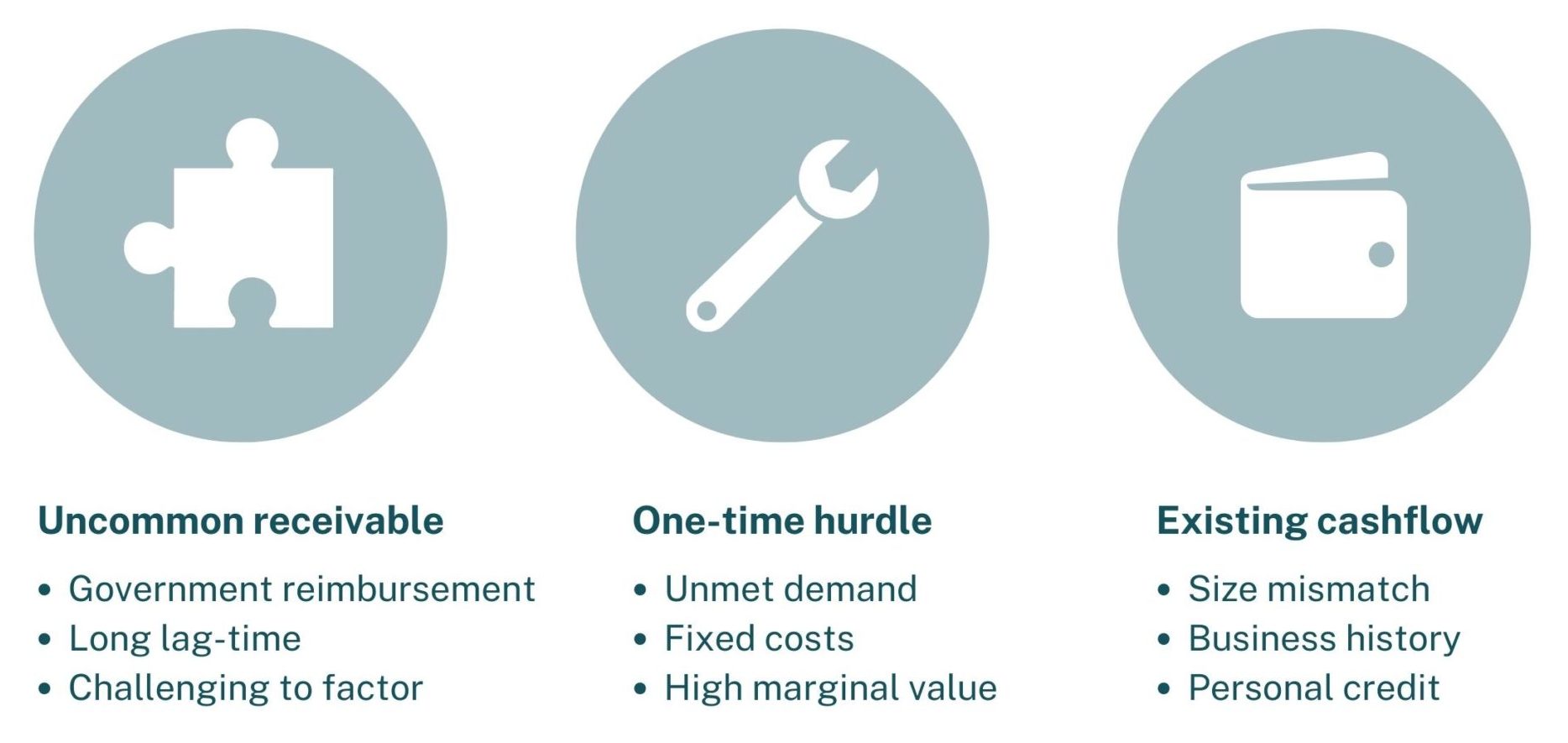 What we don't require:
Personal credit scores
Owning a house or using personal assets as security
Simple business structures
We think these are roadblocks preventing good businesses from growing.
Where some people see risk, we see opportunity.
Our job as responsible stewards of our investors' capital is to customize each transaction to the specific borrower and make the investment as safe as we can.
3. What do you mean by "impact?"
If you're committed to doing good in your community and for our planet—either by the jobs you provide or the products and services you offer, you can make an impact.
Check out some of our portfolio companies for examples.
"We started out with $1 million in revenue in 2019 and now report $5 million in revenue just two years later. We started out with eight employees and now employ 34. This tremendous growth couldn't have happened without the support of partners like Mission Driven Finance. While we are now in a better position to work with banks and other traditional lenders, we would still love to continue to work with Mission Driven Finance for our path of growth and success."
— Tri Le, Co-founder & CEO, Microtek (portfolio company)
Not sure if your business qualifies? Reach out and we'll chat through what you're doing now and what you could be doing to increase your impact. We also encourage you to submit an inquiry form so we can get to know you and your business before we chat.
4. We're not just a lender—we're your partner
We want good businesses and nonprofits to grow. So from the first conversation with our team, during underwriting, and throughout our investment, we're here to help make you stronger. Our team works hard to understand you and your business on a human level so we can tailor a loan for your unique situation. We also work with you to enhance what you're already doing well. We want to help get you connected to the right capital to grow—whether that's with us or with one of our lending partners.
5. What other lending options are out there?
We work closely with many other lenders and investors to help get great organizations connected to the capital best suited to your needs. A loan or credit line from your bank is always a great choice for an affordable loan for those who qualify. If your business is just starting to grow, our good friends at
Accessity
have fantastic products for smaller amounts.
CDC Small Business Finance
also has a wide array of
SBA
and other options, including commercial real estate loans. For more nuanced situations, feel free to
schedule a call with a member of the team
to learn what other options might work for you.
*Not meant to represent our comprehensive loan terms