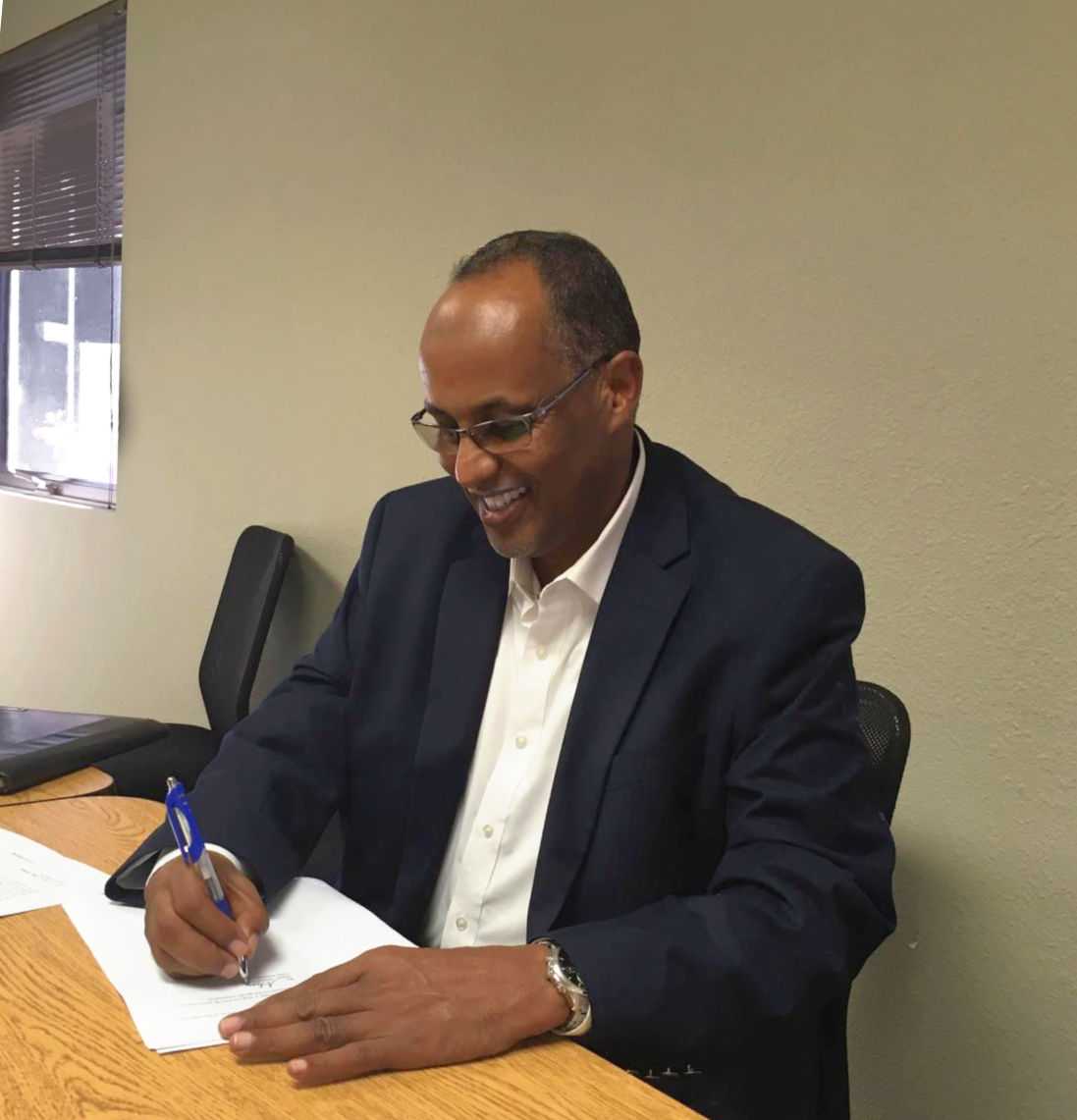 Somali Family Service of San Diego President & CEO Ahmed Sahid signs our first financing agreement in alignment with Islamic principles.
Mission Driven Finance is delighted to support Somali Family Service of San Diego, one of the cornerstones of our refugee community, with culturally sensitive bridge financing designed in line with Islamic principles.
Somali Family Service of San Diego President & CEO Ahmed Sahid signs our first financing agreement in alignment with Islamic principles.
As an impact investment firm empowering community through new models of investing in social change, we embraced the challenge of finding a solution that would align the needs of Somali Family Service, our investors, and our own organizational goals. The investment would need to fit in our portfolio thesis—both socially and financially—and comply with our partners' faith.
All of our funds and structured products are designed to close financial gaps that will in turn close opportunity gaps. Somali Family Service presented a perfect case with a need to bridge to future revenue from a government source which is not feasible for traditional banking, and to do so in alignment with Islamic financing principles. This bridge capital will allow Somali Family Service to train and support refugee entrepreneurs in starting new transportation micro-businesses. Some of those new businesses will eventually provide non-emergency medical transportation and light translation services for other New Americans from East Africa to access healthcare.
United Way of San Diego County, in partnership with Bank of America, established an Emergency Loan Fund supporting nonprofit health and human services providers in San Diego (administered by Mission Driven Finance). Through this fund, United Way co-invested and significantly decreased the cost of capital to Somali Family Service, allowing them to reinvest cost savings into the transportation micro-enterprise program.
Since its inception in 2000, Somali Family Service has provided culturally and linguistically appropriate programs and services to members of the San Diego Somali and other East African communities, easing their transition and ensuring successful functioning in their new home. Both the economic development from new micro-businesses and the culturally-sensitive access to healthcare through this new program will support New Americans from East Africa to acclimate and thrive in San Diego.
Why Islamic financing principles?
Per the 2010 US Census, Islam was the fastest-growing religious group in San Diego, growing from 8,000 to nearly 22,000 practitioners in the ten years measured. Imam Abdeljalil Mezgouri of the Islamic Center of San Diego attributed much of that growth to immigration. As one of the largest refugee resettlement sites in the country, San Diego continues to grow in this regard as New Americans resettle in areas with friends, relatives, and other community supports that assist their transition to life in the United States.  
Mission Driven Finance is thrilled to support this vibrant community with financing that is appropriate for their commercial ventures—and sensitive to their faith's ethical framework. We knew that business ownership is one of the strongest drivers of wealth creation, but we also heard from Muslim entrepreneurs and nonprofit leaders that they cannot grow their promising organizations and community impact because there are limited financing options that comply with their faith. While some take on traditional loans to sustain their work, businesses and nonprofits led by and/or serving Muslim populations have shared that they would prefer financing that meets their faith-based principles.
In our research, we also found that the underpinning tenets of Islamic financing directly align with the spirit of impact investing:
Business can (and should) be a force for good
The means are equally as important as the ends

: how we earn, how we spend, how we consume, how we invest, how we build, how we affect the environment, and how we treat our employees, counterparties, partners, and other stakeholders all matters

Financing should promote risk-sharing and financial inclusion, broaden the distribution of ownership, and reflect an interdependence among stakeholders
In investing today, we must ensure the wealth of the community now and for future generations, not only the wealth of the individual
Building culturally sensitive financing options
With support from a private donor and The California Endowment, Mission Driven Finance engaged attorney and scholar Umar Moghul of Roberts Moghul & Partners who literally wrote the book on Socially Responsible Islamic Finance to guide us and develop our culturally-sensitive commercial financing options for the Muslim community. We are grateful to these partners for recognizing the long-term value of inclusive access to capital.