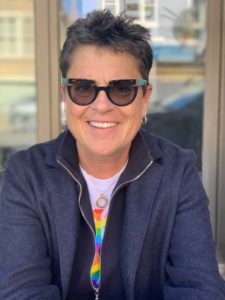 We chatted (virtually) with the newest member of the Mission Driven Finance team to find out—what drives her to invest in her community?
When did you first come to San Diego? What keeps you here?
My family first moved from Minneapolis to La Jolla in the 1970s when I was six years old. At that time, we had trouble finding a home due to discriminatory housing practices. There were actually real estate covenants barring Jews and people of color from buying and renting homes in La Jolla! Fast forward 50 years and La Jolla has a large, thriving Jewish population and four synagogues. My faith is very important to me so I am incredibly proud of the progress we've made.
I choose to stay in San Diego because this is my home. My roots are here, my friends and family are here, and I love everything about this city. I could never give up the love and hope that I feel living here in San Diego.
One of our favorite quotes about impact investing is from a fellow impact investor, Ted Levinson: "Mainstream investing is moving money based on the future you predict. Impact investing is moving money based on the future you want." What's the future you want to create?
Right now we're going through this unprecedented reset, and I think impact investing will be a catalyst for rebuilding a kinder, more equitable world. One impact investment tool that will help us create that future are donor-advised funds (DAFs). DAFs have the potential to bridge the gap between philanthropists and impact investors and make impact investing accessible and easier for more people. I don't know how David figured it out but it's a game changer!
Impact investing is the next big thing in philanthropy. It's a social justice movement—an activist movement.
If you could create your own impact investing fund, what would it look like?
I would create a fund dedicated to promoting mental wellness, particularly for young people. Mental wellness is vitally important. I'd like to make it easier to test for things such as bipolar early to give children the best opportunity to lead a full life and prevent suffering. To me, there is hope in mental wellness because everyone is ultimately seeking to become mentally well. It's something everyone can get behind.
One way I'm working to support mental wellness right now is my involvement with The Comfort Cub. It's a nonprofit launched by one of my friends from elementary school, Marcella Johnson. She created comfort cubs, which are specially weighted teddy bears, to cope after the loss of her child. They are a tremendous tool to help people cope with trauma, so I recently donated comfort cubs to retirement homes and Holocaust survivors.
Finally, why did you decide to work at Mission Driven Finance?
I've been friends with David for a long time, and when I saw the creative ways that Mission Driven Finance was using finance to create social change, I knew I had to get involved. It's exciting because you all are really pioneers in this space. I've lived my whole life striving to be in service of others. Impact investing felt like a natural progression in my career—the decision was very intuitive. It's also in line with my faith. The Advance strategy is Tzedakah, the eight levels of charitable giving, because it helps people establish themselves in business and makes them self sufficient.
My late father, Murray Galinson, was an amazing connector of people and I have very much followed in his footsteps. The theme of connecting has been constant throughout my professional and personal life. I'm eager to continue that in my new role as the director of community relations. The Mission Driven Finance team pulses with a real excitement and energy and I'm proud to be a part of it.