Three years ago, a community organization seeking to transform the lives of more youth in Southeast San Diego faced the too-familiar brain teaser nonprofits face: How do you scale impact with limited funding options?
After years of their students bussing to and from athletic courts in the middle of the county, Access Youth Academy decided to bring the sport of squash closer to where their students live. In 2019, they started moving forward on plans for a state-of-the-art academic and athletic facility in Southeast San Diego, a historically disinvested community.
Even with beautiful plans and a strong base of support, Access Youth Academy needed help to overcome a gap at the pre-development stage—the important but unglamorous work of securing permits and planning—when financing options are hard to find.
But Mission Driven Finance loves to close capital gaps in order to close opportunity gaps! Together with investor partners Civic San Diego, Alliance Healthcare Foundation, and The San Diego Foundation, Mission Driven Finance facilitated an $800,000 bridge loan that unlocked $12 million of New Market Tax Credits and construction financing to build the new facility.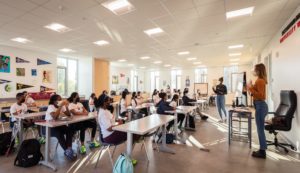 During the pandemic, Access Youth Academy kept building. The new facility was completed in the summer of 2021.
This state-of-the-art building is helping take young people to places they had only dreamed of.
Today, Access Youth Academy has helped its alumni secure $10.8 million in college scholarships and seen 100% high school graduation AND college acceptance rates. Not only that, but its beautiful new home has become an important venue for community organizations, including the San Diego Chamber of Commerce and Governor Newsom's Advisory Council on Physical Fitness and Mental Well-Being, bringing attention to Southeast San Diego and youth development.
When Mission Driven Finance team members were there recently, they saw a vibrant space where teenagers played squash and did their homework for hours on end—a far cry from the empty lot just a few years earlier.