Changing the Face of Finance
One of the fairy godmothers of impact investing Morgan Simon likes to say, "Don't let perfect be the enemy of good—we all know that one. But also, don't let good be the enemy of perfect. Keep striving to do better."
We take that advice to heart. We started with a nimble commercial debt fund so that we could quickly start making an impact in our community. And it's been good, no doubt.
But we also recognize that our investment portfolio reflects the lived and worked experiences of our current team. Diverse as we may be, we are not representative of our whole community. That affects which companies end up getting capital from us.
That's one of the primary reasons why we're launching a Community Finance Fellowship. We want to mobilize capital into overlooked-underestimated communities. We know having teammates that deeply understand the cultural nuances inflecting an organization's impact and market position will help us invest sensitively—and smartly.
Diversity is a strength, a great reducer of blindspots, and our industry has been woefully not diverse. This lack of diversity in finance perpetuates unequal access to capital and opportunity. A recent Impact Alpha article noted:
To build a new financial system that integrates impact into all decision-making, our investment teams must reflect the great diversity of perspectives and experiences in our society. Making impact investments requires the consideration of the multitude of positive and negative effects that an investment can have on a variety of stakeholders; building teams that reflect a breadth of backgrounds, ideas, and experiences will certainly result in stronger deals. Until we address these imbalances, we only heighten the risk of restricting the values and worldviews of impact investors and, ultimately, sacrificing impact.
That leads to our second reason to launch a fellowship. Investment and finance careers can be lucrative, but haven't been particularly welcoming to women or people of color.
We can do better. Mission Driven Finance has an ingrained learning mindset which translates well to a training environment. [See the Storytelling for Change exercise we did as a team, for example] Furthermore, we deeply believe that we're stronger together. Not just as a means to get other folks to buy into our vision, but as a way to co-create a new and better vision than we could imagine alone. This is one of the missing ingredients in creating welcoming workplaces for folks from all walks of life. We believe it gives us an edge to run an awesome fellowship program.
What will a fellowship accomplish?
Over the course of a year with us, Community Finance Fellows will be primed for competitive career trajectories in finance. Through dedicated workshops and learning by doing, they will build skills in how to assess, assist, and approve investments; monitor financial and impact metrics; and hone analysis and presentation skills for both community partners and investment committees.
The incredible team at Harder+Company is helping to thoughtfully design the fellowship experience. They're providing expertise to build from curriculum to job shadowing to reflections in a community of practice. Through this partnership, we aim to:
Build a diverse talent pipeline for the finance sector.
Increase deal flow in communities historically lacking access to the financial system.
Establish a model that can be shared and scaled across the field.
What does it take to launch a fellowship?
Briefly, it takes capital to provide fellows a living wage and cover training costs. And it takes additional capital for fellows to have the practical experience as part of our team mobilizing money into communities.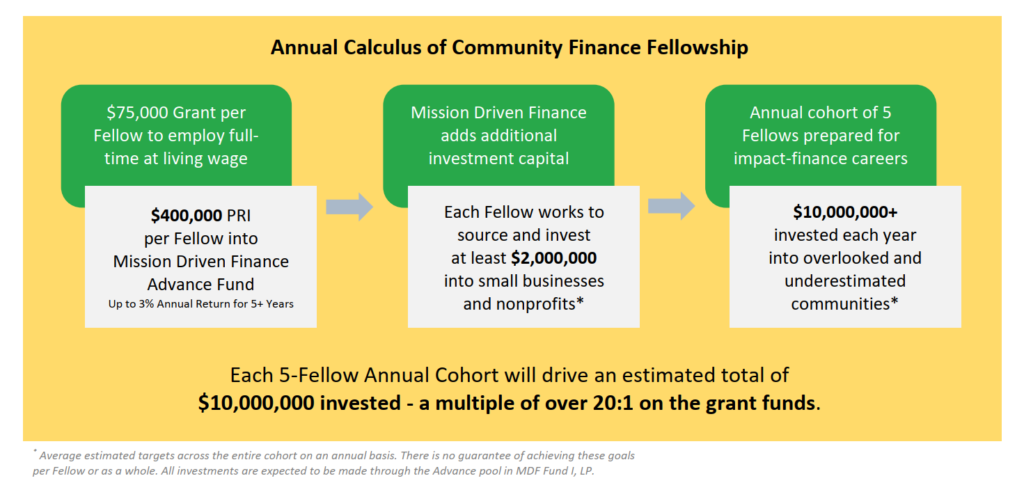 We're deeply grateful to the WES Mariam Assefa Fund for providing lead support of the Community Finance Fellowship in their inaugural round of grants. WES Mariam Assefa Fund's $225,000 grant to Mission Driven Finance will cover the full costs of three fellows connected to New American (immigrant, refugee, asylee) communities. With 24% of San Diegans born outside the U.S., it's vital to our region to have viable economic pathways for newcomers.
If you or your organization likewise want to mobilize capital to a specific overlooked and underestimated community, consider supporting a fellow. Dedicated to sourcing and supporting relevant deal flow, they can generate near-term opportunities and continue to do so throughout their future finance careers. Reach out to learn more.