Building an inclusive, expansive economy is a daily practice. This work happens through big commitments and small actions as well.
Prompted by Spectrum's conference moderator, Nadia Brigham, to find a partner for a listening exercise, a Black woman of a similar age to me a few rows up turned to scan the area and made eye contact with me. I climbed around and introduced myself to Brittany.
She whispered to me, "I could tell this guy next to me didn't take the exercise seriously so I wasn't going to get anything out of talking with him. But you were actively looking for a partner too, so I think we'll get along. Plus, we're both wearing Rothy's shoes."
Indeed we did have a great conversation because we made a connection that went beyond our titles, our work histories, our gender, and our skin tone. We shared past experiences of being the proactive students in the front of the class.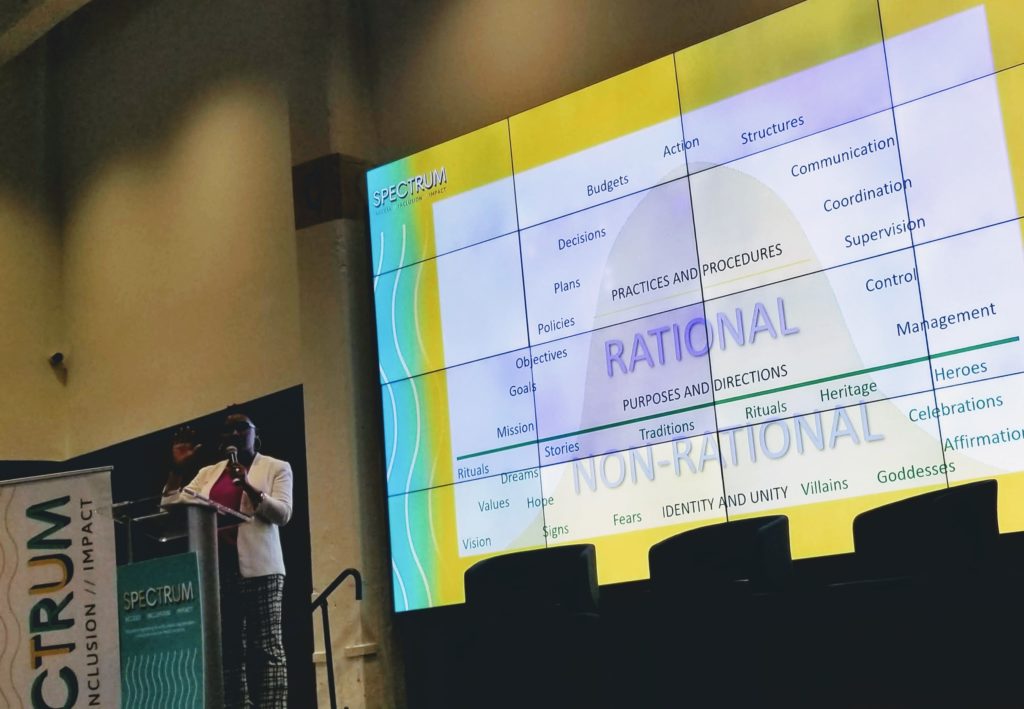 Stories, not statistics, bridge differences
We know the power of stories to change hearts and minds and to forge meaningful, lasting connections. But in our day-to-day interactions, we default to introducing ourselves with boring titles and jargon and work history as if that's what will spark some recognition.
Instead of business as usual, our fearless guide Nadia challenged us to go below the green line, to share the non-rational ingredients of who we are, to connect with people across perceived differences. Each and every time we shared our personal stories, our values, and why we feel called to do this work, we forged strong bonds with complete strangers.
We won't build a more inclusive, equitable economy if we don't collectively want to. And we won't want to until we build relationships and trust across our differences.
Princeton psychology professor Susan Fiske and her colleagues developed and tested a model of prejudice with the jazzy academic name of a Stereotype Content Model. Essentially, we treat people differently depending on how we perceive them to have warmth (helpful or harmful to my own life) and competence. If we do not build individual relationships of trust, respect, and admiration to shift our assumptions about entire population groups, then we will continue to treat them very differently.
The means matter
We often think about building a more inclusive economy in big gestures: invest in diverse entrepreneurs, invest with minority and woman fund managers, run a workshop or accelerator just for black & brown founders. Absolutely yes to those initiatives.
However, those are necessary, but not sufficient ingredients for change. How we execute those initiatives is critical. We can't keep doing business as usual, only increase the melanin of who is doing that business, and expect a whole new world.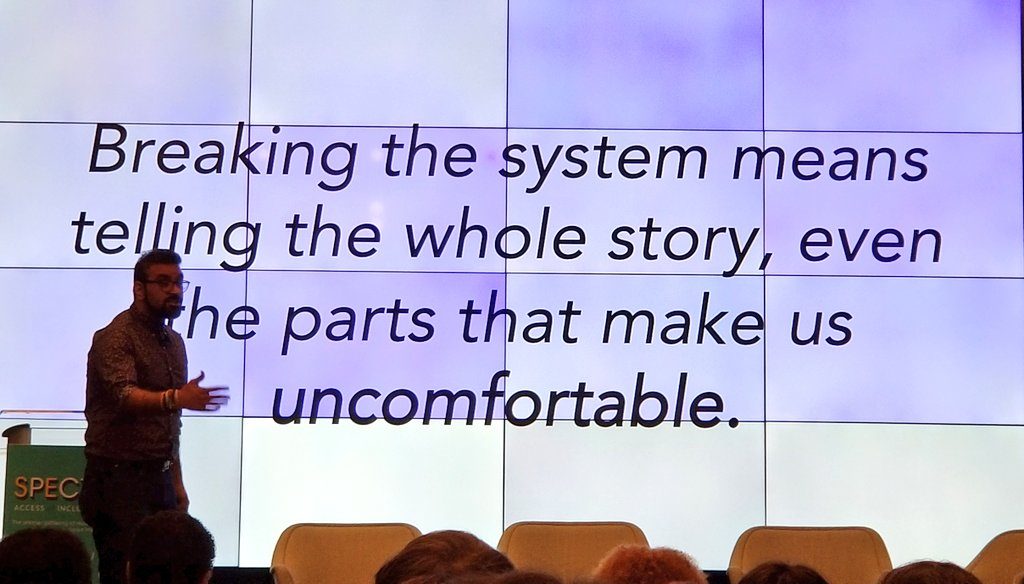 We know that the challenges we're addressing intersect each other. So to make change more effectively, we need to work through all aspects of how our language, our policies, our systems, and our structures are leaving folks out and/or not actively bringing them in.
As Lisa Calhoun of Valor Ventures put it, "it's not enough to have good intentions. It's a daily practice of lowering barriers and making accessible on-ramps. It takes time and effort and humility to develop pipelines that authentically engage women and people of color."
Economic inclusion involves more than moving financial capital differently. We need to invest social capital, relational capital, and human capital that are implicit in the current mode of business.
Jessica Norwood of Runway Project and Rani Langer-Croager of Uptima Business Bootcamp weren't there physically, but their frequent urging was: "if we are to truly close the gap of friends & family rounds for entrepreneurs without a rich aunt or uncle, we have to act as their friends and family." That means using accessible language; listening to, trusting and believing in the individuals; not asking for a lien on their house, and so many other daily practices.
If you're doing the work right, you don't need to be the Chief Equity Officer to be building inclusive/expansive wealth. Everyone on your team is advancing equity.

Twanna Harris