The best way to celebrate Black History Month this year? Shop at local Black-owned small businesses. Economic power is the fundamental building block of healthy and thriving communities. With it, communities flourish—with improved health outcomes, educational opportunities, and the accumulation of wealth to support health and happiness for many generations to come.
Unfortunately, a recent Brookings report found that highly-rated businesses in predominantly Black neighborhoods perform worse than poorly rated businesses in non-Black neighborhoods, and experience annual revenue losses as high as $3.9 billion simply because of their ZIP code.
Want to help build a better future? You can, by voting with your dollars in your community. Read on to discover how you can foster inclusive economic opportunity by supporting incredible local Black-owned businesses right here in San Diego.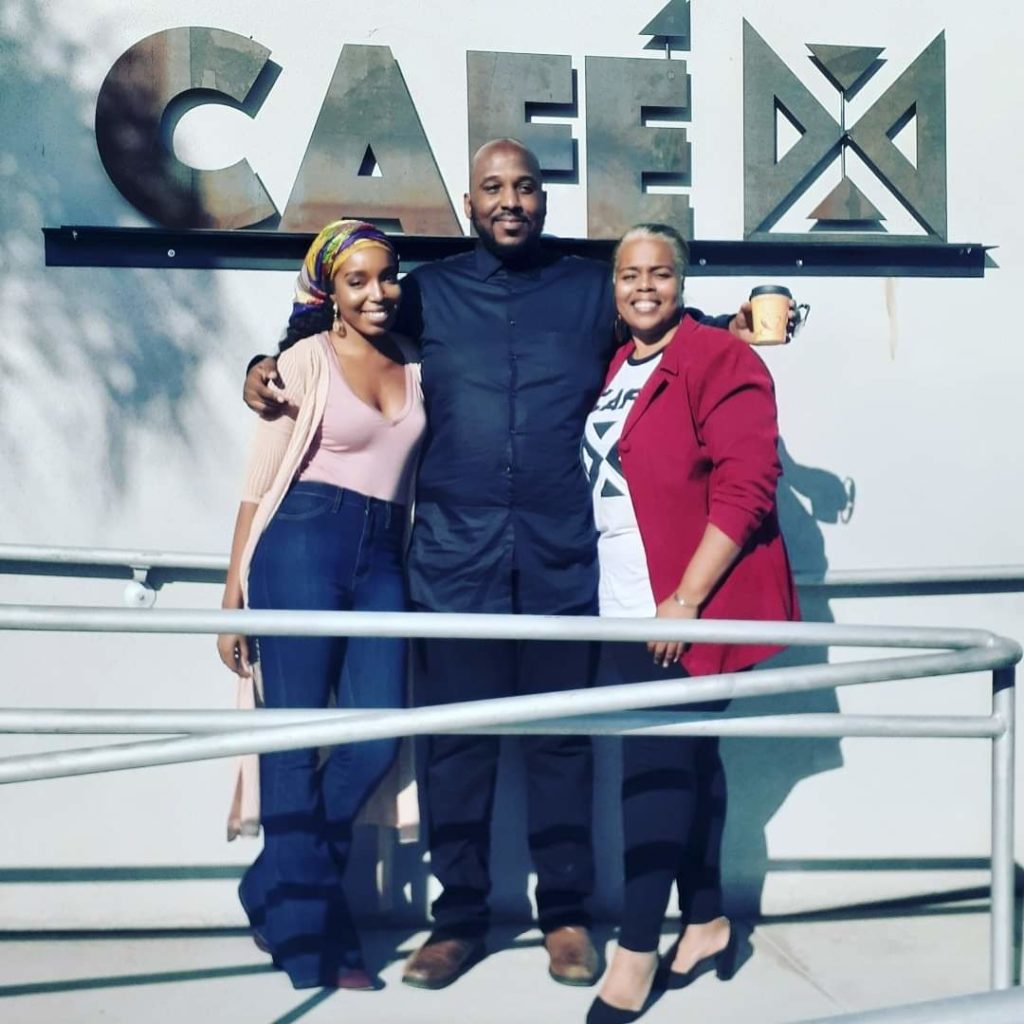 Located in the College area, Cafe X is a 100% Black-owned, worker-owned coffee shop and co-op committed to promoting healing, knowledge, and communal wealth-building for communities of color. Inspired by Malcolm X and philosophers like Jean-Paul Sartre, founder Khea Pollard envisioned a business devoted to social change; she aims to provide a welcoming space to organize and equalize knowledge in the community. Cafe X offers more than just creative teas, baked goods and lattes (like this incredible iced s'more latte)—they also host community events and offer catering services.
Founded in 1984 by Makeda Dread Cheatom, WorldBeat Cultural Center is a multicultural arts nonprofit dedicated to promoting, presenting, and preserving African and Indigenous cultures of the world through music, art, dance, multimedia arts, education, and STEAM research. By raising consciousness, the WorldBeat Center promotes peace within the community and creates unity within diversity. Visit them in Balboa Park to attend a wide variety of affordable classes, including family drumming, West African dance, and fitness classes.
Before opening Coop's in Lemon Grove, owner Brad Cooper worked as a registered nurse at Kaiser Permanente for eleven years, selling BBQ plates at hair salons and barbershops on weekends. Now Coop's West Texas BBQ has been named one of the top BBQ spots in the nation. Coop's demonstrates their commitment to inclusivity by hiring staff through Breaking Barriers San Diego, which places individuals with disabilities or receiving substance abuse treatment in jobs. Just try not to drool over the creamy candied yams and juicy smoked brisket.
This Escondido wine & beer bar was inspired by the evolving agricultural and wine industry in owner Cassandra Shaeg's hometown of Temecula. Cassandra sought to make wine and beer simple and fun while supporting women and minorities in the industry by creating a destination to empower, inspire, and exchange knowledge. Join the SIP Society Wine Club to expand your wine knowledge each month, and tune into SIP's WineVersations YouTube channel to watch thought-provoking discussions surrounding community and culture with leaders in politics, entrepreneurship, and social justice.
Roots Up Yoga Flow makes yoga affordable and accessible to everyone by offering mobile yoga services to San Diego, Lemon Grove, and Spring Valley. Owner Debra Brooks seeks to provide those who are unable to travel far from home or feel self-conscious or excluded in traditional yoga studios with the mental and physical benefits of regular yoga practice. Contact Debra to book a private lesson.
After the People's Produce Night Market was at risk of shutting down, Project New Village purchased the land between Euclid Ave. and the I-15 freeway to convert the neighborhood from a food desert to a "good food district." The Mt. Hope Community Garden Farm Stand provides a venue for economic opportunities for neighborhood growers and entrepreneurs and also offers free health screenings and education about nutrition. Mt. Hope is truly able to make healthy food choices available to all by being the only farmers market in southeastern San Diego that accepts EBT cards. Stock up on fresh squash, apricots, and more every Tuesday from 5:00 to 7:00 p.m.
Project Reo Collective is the result of five families coming together to invest in their Paradise Hills community by creating a safe space for neighbors to connect with each other over local art and coffee. Visit Project Reo for an open mic or live jazz night, or treat yourself before work with a caffeine fix, such as this heavenly white chocolate mocha.
BaKuumba Botik Co-op
BaKuumba Botik Co-op is a collective of retail and community space, focused on creating change in the Encanto neighborhood by providing a space for Black entrepreneurs to own their own business. Founder Dajahn A. Blevins describes the space as a "Co-op of visionaries, artists, educators, entrepreneurs, and resources for increasing quality of life through the power of creativity." Shop for fashion, art, and African goods, then attend one of their community health workshops.
The African Market Place & Community Reception, Friday, February 28, 6:00 p.m.
Admission: Free
Taste of Soul, Saturday, February 29, 5:00 p.m.
Admission: $7
Each year in the last week of February, San Diego Urban Warriors Inc. and the African American Advisory Council of the San Diego Repertory Theatre celebrates San Diego's diverse and creative Black culture with the three-day Kuumba Festival. On Friday, visit the African Market Place & Community Reception, where you'll find cultural vendors, fashion, art, jewelry, light foods, and live jazz. On Saturday, pop into Taste of Soul, a friendly competition in the spirit of Ujamaa (Cooperative Economics) of San Diego's top chefs, cooks, and restaurants promoting the best Black-owned and operated eateries.
Find more local Black-owned businesses on the Buy Black San Diego's directory.