To build an inclusive economy, we must transform the world of finance. Communities need good businesses, and good businesses need access to affordable capital. But our financial systems, structures, and policies have restricted access to capital and opportunity—whether intentionally or not. We believe the lack of diversity in finance perpetuates unequal access to capital and opportunity, and that there is no real power without economic power. To build this talent pipeline, we are launching our Community Finance Fellowship.
The fellowship is all about building capacity, connectivity, and cultural awareness so that capital flows in new ways to communities that are often overlooked and underestimated.
Capacity — of individual fellows with lived experiences that inspire them to understand and change capital flows
Connectivity — between Mission Driven Finance and communities that are currently un- or underrepresented in our investments
Cultural awareness — of the nuances that have prevented capital from moving into these communities so that we can reimagine and reinvent new strategies to shake things up, sensitively.
Why do a fellowship with Mission Driven Finance?
If you're passionate about getting capital to your community but not sure how, let's talk. The Community Finance Fellowship ultimately creates economic power for overlooked and underestimated communities and provides an accessible on-ramp for strong finance careers that have been hard to get to. We want to break that vicious cycle of "can't get a job until you have experience and you can't get experience until you have a job," especially for our industry.
As a fellow with us for one year, you'll get paid, hands-on experience in impact investing and community finance through formal training and practical project-based learning. We're committed to providing livable wages and access to benefits as well as a supportive work environment where you can learn, grow, and move on to your next chapter with great skills.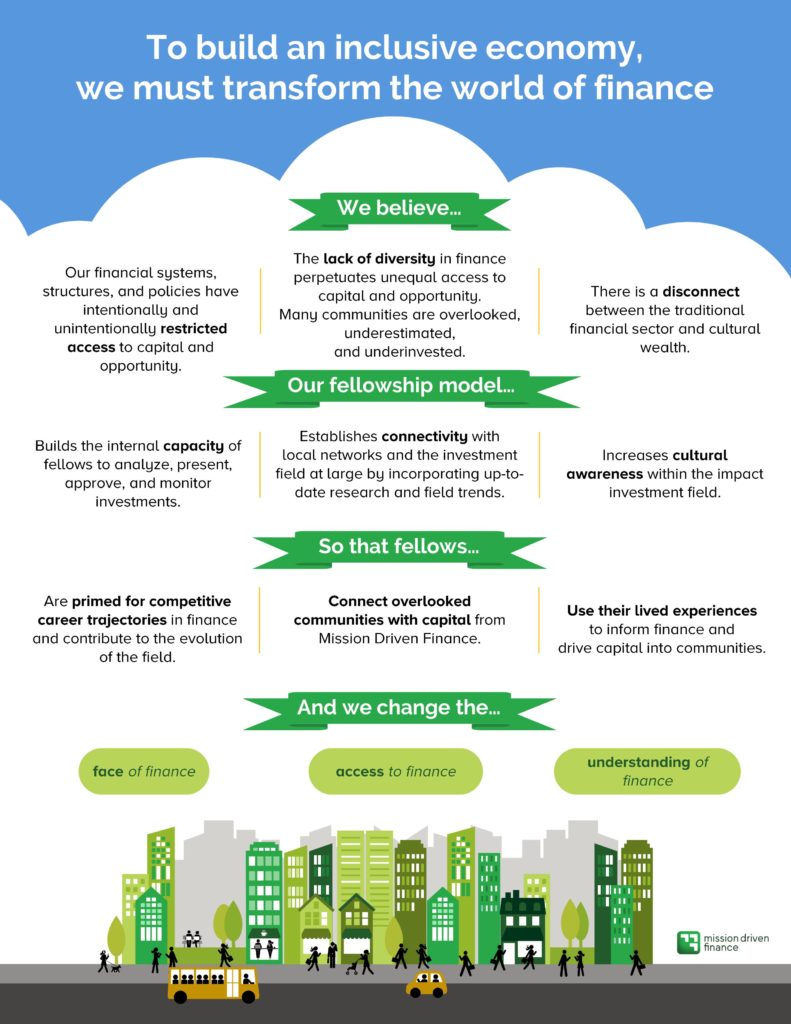 Who should apply?
You want:
The world to understand how amazing your community already is, and see its potential to be even greater.
Your community to be stronger and healthier—and you know that access to capital could help make that happen.
To learn about how investments traditionally get made.
To explore new ways to invest to create impact.
To change the field of finance to better reflect the life you've lived and lives you've seen in your community.
You have:
A desire for action, not just more talk (though talking is also important).
A growth mindset. You are inquisitive, wondering, and ready to explore how to increase deal flow in your community.
How do I apply?
Sign up below to get updates on the fellowship program.